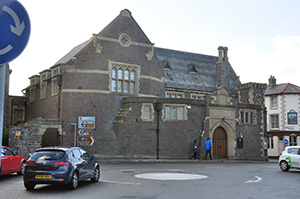 Rehearsals are held at The Guildhall, Rosehill Street, Conwy, LL32 8LD.
We rehearse every Thursday from 6.30pm to 8.30pm with a break for a cup of tea (or coffee). If you would like to come and join us, please come along for a chat and a play through – we do have an informal audition at the end of a rehearsal but this is only so we can judge your level.
Our membership fee is just £30.00 per year.
The Guildhall is easy to find situated in the heart of Conwy, just by the Castle.
The large Vicarage Gardens car park is available just around the corner from the Guildhall and costs just 60p after 6pm.
COVID-19 Update
Formal rehearsals at the Guildhall are currently suspended, however, rehearsals are continuing virtually each Thursday evening at 6.30pm and Sundays at 11.00am.
If you play an instrument and would like to join in from anywhere in the world, please contact us.